Let me write your origin story and turn potential clients into loyal fans
I get it, you know exactly why you set up your business, your mission, the reason you get out of bed in the morning. You can talk about it all day long to anyone who'll listen but when you sit down to put it into words, all rational thought gets sucked into the great white void, your brain becomes a garbled mess and you slam down the laptop lid with a frustrated, sharp in take of breath.
Let me take care of it for you while you get on with the fun stuff.
76% of consumers will buy from a company they feel connected to over a competitor.
56% will spend more than they otherwise would.
No matter which industry you work in, there are hundreds, probably thousands of people offering the same or very similar products or services. It's a competitive world, full of clients with the attention span of a goldfish so grabbing their attention long enough for them to part with hard earned cash can seem like a shot in the dark.
There's one thing that sets your business apart from all the others though. It makes a connection, builds trust and makes your business not just the only choice for your clients but the one that they will happily recommend to family, friends and colleagues.
What is this magic magnet? I hear you ask
It's YOU!
Your passion, your expertise, your sense of humour. The challenges you faced in your past that you didn't think you could overcome and yet you did.
That moment in your life when you felt horrendous. The fire it lit to fuel you to set up your business with the vow that not only would you never feel that way yourself again but no one you worked with would ever feel that way either.
That's what your clients connect with, what excites them, inspires them and lets them know they and their money are in safe hands with you.
The right first impression is magnetic! It creates an unbreakable bond that brings them back to you time and time again. You've worked too hard to let your  dream clients drown in a garbled word salad and slip away from you never to be seen again.
A compelling origin story will make you not just the best choice for your audience, you'll be their only choice!
Meet Sarah
"She'll probably not survive. If she does she'll never walk or talk and her quality of life will be low"
This is what doctors told Sarah's parents in 1982 when she arrived into the world. Her fighting spirit and warrior essence, even within a tiny body knew better though and from day one she embarked on a quest to defy the odds and write her own rules.
Sarah Griffiths MBE is an intuitive empowerment mentor and magic seeker. She supports exhausted people pleasers to reframe their beliefs, know their true worth unlock their limitless potential and create a life that lights them up.
Sarah is better known to many as "Wheelie Momma" She has cerebral palsy since birth which means she uses a wheelchair, something which she actively fought against most of childhood and teenage years. This steely determination served her well and saw her graduate from university, pass her driving test, buy a house, do 2 skydives, travel, get married and have 3 amazing children.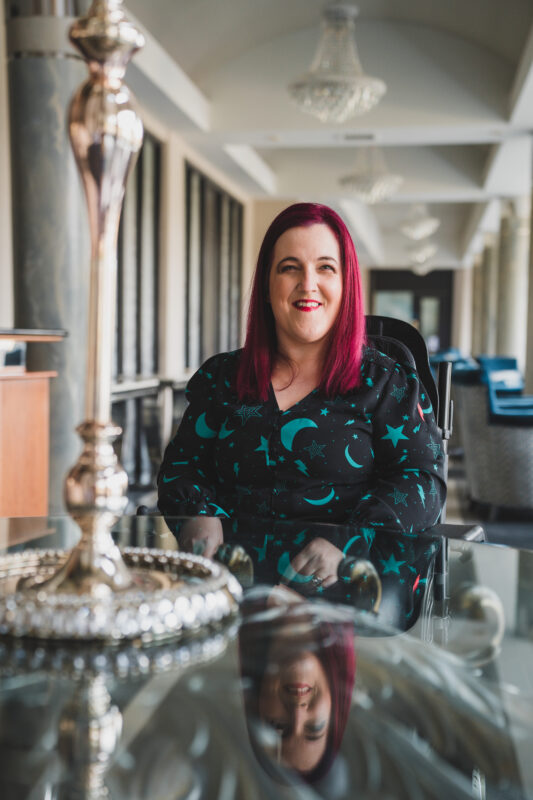 Her journey of awakening really began during her first pregnancy when she discovered bio energy healing and meditation to help deal with chronic pregnancy sickness. This was the turning point when Sarah realised her body and mind's true power and ability to heal itself. She also realised that while we can't always consciously control what happens in life, we always have the gift of being able to choose how we react to it.
Fast forward 3 years and Sarah has cured herself of a debilitating back condition and fully embraced her "Wheelie Momma" self to encourage others to reach for the stars regardless of any perceived limitations.
Her blog "Wheelie Momma Diaries" began during her first pregnancy as a way of documenting everything for her son so he could see later the adventure his Mum and Dad went on and how much he was anticipated and adored. In a completely unexpected turn of events the blog was a huge success and quickly grew a large following of readers captivated by Sarah's authentic, heartfelt and often hilarious story telling that made them laugh, cry and believe that anything really is possible.
She's now a sought after motivational speaker and a published author with her first children's book "My Mum's A Superhero" while also working on her autobiography "I'll show you"
Sarah began working as an intuitive in 2019 following the birth of her daughter, using the same insight she used to realise her own dreams to help others do the same.
What Clients say about working with Sarah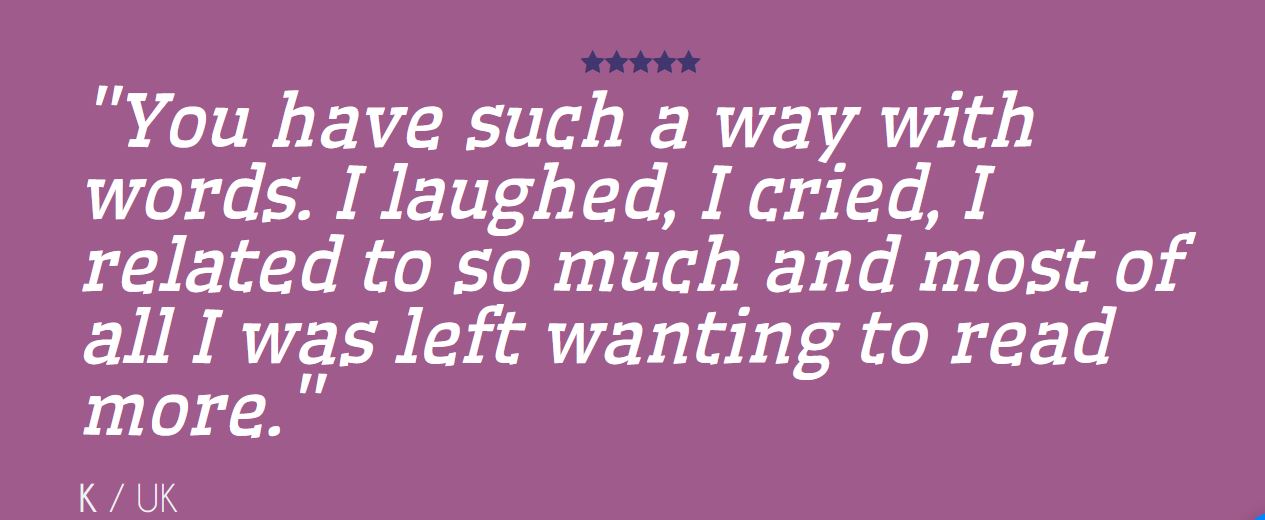 Supercharge your story and sell out
I'll get to know you better with
A short questionnaire

An intro call (max 30 minutes) This allows me to see the magic you might have left out in your answers.

Then I'll craft an origin story and about me page that will help you shine in the centre of your client's minds and have them saying "take my money".